Automate & Manage Software Releases Across Remote/Branch Offices
Maintaining software releases across remote sites is complicated, costly, and error-prone. Cruz Software Lifecycle Orchestrator (SWLO) reduces the complexity with consolidated lifecycle management for bare metal, OS, PNF, VNF, VM, and applications.
Cruz SWLO features three primary components: software release management, deploy virtual functions, and network configuration.
Key Features
Deploy BIOS and core operating software to physical and virtual environments; and manage updates as zero-touch processes, manual activities, multi-target deployments, scheduled tasks, and automated upgrades.

Manage VNF/NS libraries and deployment records, and Virtual Infrastructure Managers

Utilize extensive libraries of proven network device configuration processes, compliance validation, device backup, and recovery routines to manage physical and virtual network functions.

Maintain centralized verified library of SW images all software instances of branch/remote sites, ensuring configuration consistency.

Create target groups for bulk resource updates.

Automate remote software upgrades.

Confirm site current version and configuration.

Site update resource prep and restoration processes.

Automate rollback processes.

Verify, backup, and restore software configurations.

Centralized control of an individual, batched, and scheduled branch software updates through automated processes to eliminate technical intervention at the remote site.

Automate the defined process for each location's SW installation and present as one-touch upgrades.
Cruz Software Lifecycle Orchestrator, like all Cruz products, is seamlessly integrated with Cruz Operations Center (CruzOC) for a robust converged infrastructure management solution to configure, monitor, and manage all your devices and from a single system. The integration offers Day 2 management and centralized management for data center and network operations for multiple vendors and technologies.
Contact us to learn more about Cruz Software Lifecycle Orchestrator.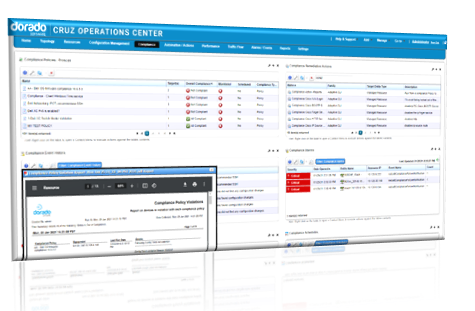 ---
Interested in Cruz Software Lifecycle Orchestrator?